Paul Emery Presents
Tumble & Flounder
in cooperation with the Sierra Jazz Society
Nevada Theatre, Nevada City, CA
Friday, November 5, 8pm
$30 premium reserved seating
$20 general admission


Sierra Jazz Society inteviews Randy McKean
SJS:  Randy; You have been a fixture in the Nevada County jazz scene for so long, it's nice to have you featured at a SJS / Paul Emery Presents concert.  For starters, could you tell us a little about yourself: Where are you originally from, and what has your involvement been in the local music scene?
My earliest music-related memories are from growing up in Omaha, Nebraska—my oldest brother Curt plays the tenor, at the time he was playing in a series of groups influenced by Blood, Sweat & Tears and Chicago, the different horn bands that were popular in the late 60s/early 70s.  I remember sneaking into our basement to get a listen while they were rehearsing.  In 1972 we moved to Marengo, a little town in southeastern Iowa.  I took up the alto saxophone a couple of years later at age 10, was part of the concert band, the marching band, the "swing" band.  Growing up in the 70s and early 80s, I wasn't really into jazz, but gravitated to rock, pop and the whole New Wave/punk scene.  Curt would try to turn me onto jazz with different fusion records, but nothing really stuck until he gave me the album Sonny Rollins On Impulse!  I loved the calypso tune on there, but it was Sonny's version of "Blue Room"  that hooked me.  I could hear the connection between Sonny's solo and the melody of the tune, I felt like I could hear him thinking.  This wan't just a guy playing a bunch of flashy notes, there was something deeper to it.  I always want to understand what's going on intellectually, this revelation was an entry point for me into the music.
I went to Coe College, a small liberal arts college in Cedar Rapids, where a great musician, trumpeter Paul Smoker, led the jazz program.  Paul was serious about teaching the standard repertoire, but at the same time he connected it to the cutting edge music of the time.  He brought all kinds of amazing musicians to the college, including Lee Konitz, Henry Threadgill's group Air, the String Trio of New York, and most importantly for me, the saxophonist and composer Anthony Braxton.  Braxton gave a seminar, where he talked about his solo music—he explained how each piece was based on an idea or generative concept, many of which would in turn inspire works for quartet and larger ensembles—and then played a solo concert on the alto sax where I heard these concepts in action:  that was IT for me.  He exploded the notion that a piece had to be based on a melody or chord changes, one could take anything—short, staccato notes, or a glissando (a "curved line sound"), and transform them into these complete sound worlds in the course of one piece.
In 1987 I enrolled at Mills College in Oakland for grad school, where Braxton was teaching at the time.  At Mills and in the Bay Area, I met a whole new set of teachers and peers who introduced me to an even wider world of musical influences:  Medieval music, electronic music, Indonesian gamelan, the American experimental tradition (John Cage, Steve Reich, Morton Feldman), even avant garde rock.  At Mills, Braxton encouraged me to compose my own music and to double on other reed instruments, such as clarinet and bass clarinet.  I graduated with an MA in Composition and started a quartet to play my original music.
The next logical step for me was moving to New York, where I lived for 10 years, from 1992 to 2002.  I reconnected with Smoker and Braxton, both of whom were now on the East Coast, and got to meet and play with many of my heroes at the time, including Tim Berne, Don Byron, Mark Dresser, Drew Gress, and Herb Robertson.  I recorded a couple of CDs at the time, was playing quite a bit, but in addition to the music, I had a full-time day job and my wife Lindsay and I decided to start a family.  It all got to be too much for me to juggle, and although I continued to play periodically through the later 90s, I eventually decided to hang up the reeds.
Family connections led us to Grass Valley in 2002 and, to our surprise, the melting pot that is Nevada County.   To me, the music scene felt close to and fed by bigger scenes, like Sacramento and the Bay Area, but it also felt far enough away that you can do your own thing, experiment with like-minded people, try different things that perhaps you wouldn't try if you were constantly under the spotlight.  The magic of Nevada County began to thaw things out for me and my creativity returned, bit by bit.
The first things I got involved with were duos, very different from one another—Sawbones, with violinist Maxima Kahn, where we explored our free jazz roots, and Off Center with guitarist David Dvorin—my future Flounder bandmate, playing the music of Jimmy Giuffre and Jim Hall.  I started playing Balkan-influenced jazz with Ludi Hinrichs' Chickenbonz and writing classical pieces with the Nevada County Composers Cooperative.  I started playing with folks in Sacramento and reconnected with people in the Bay Area, but a big game changer for me was joining Maggie McKaig, Luke Wilson and Murray Campbell in Beaucoup Chapeaux—its grab bag of European cafe music, gypsy jazz, and Maggie's originals really challenged me on the clarinet, and led to stints with the Earles of Newtown and Lolo Gervais.  I got involved with Sierra Jazz Society when I asked John Girton and Bill Douglass to play a concert of Giuffre tunes with me.  That connection led to a long stretch with John's trio and a summer teaching with the Sierra Jazz Society's summer program.
SJS: How did you get involved with Tumble?
When Clocktower Records opened in Grass Valley, in 2014, I loved going there to check out their jazz selection and whatever else I could find in the bins.  I kept running into Robert Heirendt, who I  knew from a work connection.  We would have these great conversations about music, I thought, wow, this guy knows about a lot of different stuff and has great taste.  He told me that he played the mbira, an instrument about which I knew next to nothing (except that it was somehow related to the kalimba, the thumb piano).  We decided to get together and play.  At the same time, I had been doing the occasional jazz standards gig with guitarist Sean Kerrigan, and wanted to find a way to play original music with him.  I invited Sean to join us.  The first time we played as a trio, Robert taught us a traditional Zimbabwean tune that was very dance-like and totally mesmerizing.  We played the one tune for two hours without a break.  It set the template for our rehearsals to this day.
Though we started with this very traditional, trance-like piece, we each soon started bringing in original pieces, each different from the one before it.  Each rehearsal was like a workshop of ideas.  Robert would bring in an ethereal ballad or a Wayne Shorter tune, Sean was writing these really intricate, layered pieces.  The clarinet worked well with the mbira, and the tenor sax had an Afropop connection with the guitar.  Just about the time we finished recording our first CD, Music for Trio, in 2015, we invited Bill Douglass to join us on bass.  Bill's deep listening and attention to each note took the music to a whole new level, the result of which you can hear on our second CD, Waves, recorded in 2018 and released a year later on my record label, Cure-All Records.
Unfortunately, Bill left the band around that time due to health problems.  Rob Holland, who is a percussionist as well as a bass player, joined in 2019, bringing with him a vast knowledge of African and Latin musical traditions.  Rob's electric bass playing and his subtle but effective arrangement ideas are adding a fresh twist to the sound of the band.
SJS:      Tumble is such unique music and was one of Bill Douglass's most recent projects, but would you actually categorize it as jazz?
I guess I would have to see what definition is being used—one person's interpretation of the word may be completely different than the next.  I use it as shorthand for creative music that stems from certain rhythmic traditions, that involves improvisation and certain concepts of group interplay.  We're talking about an art form, originated by African-Americans, that is really a mindset and an approach to creativity, one involving group activity in which the individual is required to bring something unique.  Bix Beiderbecke was influenced by Ravel, Billy Strayhorn by Tchaikovsky, Coltrane studied ragas, Eric Dolphy imitated bird songs, each of them transmuted these inspirations into their own sound.  With Tumble, you've got precomposed rhythms, melodies, structures acting as springboards for improvisation, you've got soloists playing against a grooving rhythm section, you have musicians who hopefully are drawing upon their entire musical history to contribute to the moment, that's jazz to me.  Bill's years of playing traditional Chinese flute music informed his playing and relating to the band as much as his years with Marian McPartland and Mose Allison.  It's crucial to acknowledge the tradition, but at some point the categories break down and it's all just music.
SJS:      Switching over to your new project, Flounder; Is this a new project for you and what can you tell us about it?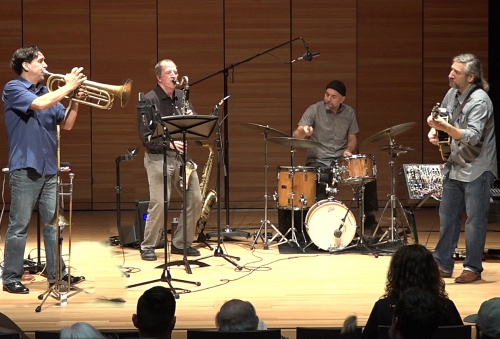 Yes, Flounder is the most recent project I'm involved with.  The group began in 2018 when guitarist David Dvorin, who teaches composition and electronic music at Chico State, was putting together a concert of his original music.  David was one of the first musicians I met in Nevada County—before he began teaching in Chico he and his family lived in Nevada City for many years.  We have done several projects together over the years, playing as a duo or guesting on performances of each others' compositions.  For this particular concert, in addition to David's originals, we were doing tunes by Howlin' Wolf and Thelonious Monk, some gritty, groovy stuff, and David wanted to put together a band.
We had both played with Cliff Childers, a great trombonist and low brass player, formerly in LA, now out of Roseville, who also happens to be an awesome harmonica player.  Tim Bulkley is an amazing drummer who had recently moved to Grass Valley with his family after many years in New York and the Bay Area—he's played with everyone from Wil Blades and Peter Bernstein to Boz Scaggs and Postmodern Jukebox.  Both these guys were perfect for what David had in mind.  I played tenor sax and bass clarinet.  The concert was a big success, the band had a great time, we wanted to keep it going.  We decided to take our name from one of David's tunes, "I'm the Flounder," his nod to the Beatles' Walrus.  There was a certain cheekiness to the name that seemed to fit the gentle swagger of the band.  We started gigging locally and in the Bay Area, and ended up recording our first CD shortly before COVID struck.
SJS:      And you actually are the bass player in Flounder; can you speak to that?
Since moving to Nevada County in 2002, I've played in so many duo situations and groups with lots of acoustic instruments, groups without a bass player or drummer, so much so that when someone was needed to cover the bass range, it often fell to me to do it on the bass clarinet.  Even after years of laying down the bass line on Django Reinhardt's "Minor Swing" with Beaucoup Chapeaux, it can be a challenge to switch into the proper mindset, but it's one that I enjoy!  I recently added the EEb Contralto Clarinet to my arsenal of horns, the next step below the bass in the clarinet family.  It's a beautiful instrument, it brings added heft to the sound of the band.  I can *almost* reach the lowest notes of the contrabass.  It's pretty nice to have when I'm bashing out the low notes for a Flounder rave-up!  Cliff also steps in on the low brass and/or harmonica to beef up the sound.  The instrumentation has allowed for an elastic interaction between the low horns and drums that just adds to the fun.
SJS:      Regarding both Flounder and Tumble, they are both such innovative groups.  Where do see them heading musically and what is in store for each of them?
I've been saying this a lot recently, I really love being in a band—I'm fortunate to play in a lot of different groups, with many of the same people among them, but even one change of personnel between groups creates its own unique dynamic, it gives each combination of members a camaraderie and spark that is special to that constellation of personalities and brings amazing things into being.  It's great to be back playing with and for other people after this last year of isolation, and it's really fun to be doing it with such different groups.
Tumble has a whole new set of tunes we've been working on since our last album came out two years ago.  We try to meet every week, regardless of whether or not we have a gig coming up.  It's really great to have the time to experiment, each of us are bringing in ideas and we all work on fleshing out the arrangements.  It's interesting—on some pieces we are trying to open up our sound, introduce some space and freer improvising into some of the more trance-like, dance things we do, while at the same time in other pieces we are layering more and more parts into the mix.  We're hoping to do our third record sometime next year.
As Flounder is out performing more and more, it's been fun to hear our group sound evolve as we get the opportunity to stretch out.  David writes to the strengths of the band—there's a certain freewheeling, go-for-broke nature to the group that he exploits, but David also continues to throw different genres our way in the new tunes he has written for us since we recorded our CD—a rockabilly boogie here, a folk waltz there, a Zappa-esque stadium rocker to top it all off.  We recently did a video/audio shoot of some of the new tunes at Zingg Recital Hall at Chico State, it's a beautiful space, and hope to do more in the Spring.  It will be interesting to see what we do with the collection of sights and sounds!
SJS:  It's been great talking with you.  Thank you and we look forward to seeing you on November 5th at the Nevada City Theatre.
Thanks for helping to bring this music to the folks out there.  I'm excited to see what's next for the SJS!
LINKS:
Tumble Music For Trio
Tumble Waves
Flounder I'm the Flounder
Cure-All Records
randymckean.com