• June 19th, 2023 through June 23rd, 2023 – 9 AM – 4 PM
• At Yuba River Charter School – Grass Valley, CA
• All instrumentalists and vocalists welcome.
Advanced Middle School Students through Adults!
• Get Jazz Experience in Combo and Large Ensemble Formats!
>>The Camp Concert will be Friday June 23rd at 2 PM at
Yuba River Charter School <<
Jazz Camp is a fun, focused, and supportive environment. You'll jam with motivated peers and study with a faculty of professional musicians and educators.
TUITION: $299
Click to Register for Sierra Jazz Camp
Please Note:
If you have issues singning up for camp, creating a login or anything else with our website applications CHECK YOUR SPAM AND TRASH FOLDERS for emails from us. Spam blockers active in the background of web browsers will routinely send emails from URL's not contained in your contacts to SPAM and/or TRASH folders. If all else fails, call Matt Langley at 207 337 2375 for assistance. Matt WILL NOT answer calls from unrecognized numbers but PLEASE leave a message concerning your problem and Matt will return your call promptly.
Additional Information: Students need to bring their instruments and their own lunch and drinks (no shared meals will be provided). A Briar Patch lunch option is available for an additional $100 fee.
Generous Sponsor of
Jazz Camp 2023.
Watch for a
recording package promotion
between SJS and AWS coming soon!
Daily Schedule:
9:00-9:30 – Arrival, Instrumental/Vocal warmups
9:30 – 10:45 – Combo Rehearsals
11:00 – Noon – Instrumental Master Classes
alternating with improv classes daily
Noon – 1:00 – Lunch then outdoor activities
1:00 – 2:30 – Large Ensemble Rehearsals
2:45: – 3:45 – Theory Classes or Jam Sessions
4:00 – Departure to go home and PRACTICE!
Faculty
Matt Langley – Saxophones & Camp Director
Matt Langley has studied with Lou Marini of Saturday Night Live, David Baker, Ted Dunbar, and Stan Strickland. He has recorded extensively with the Charlie Kohlhase Quintet, his own group, Color, with pianist Pandelis Karayorgis' group System of 5, and with Mike Effenberger's weirdturnpro. Mr. Langley has also shared the stage or recording studio with Ron Carter, Richie Cole, Fred Hersch, John Medeski, Billy Martin, Chris Wood, Matt Wilson, Tiger Okoshi, Roswell Rudd, Dave Douglas, and many others. Since moving to Northern California in 2020, Matt has become active on the music scene in Nevada County and the surrounding area.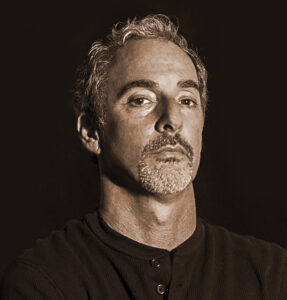 Tommy Coster – Piano, Theory, Composition, Music Production & Marketing
By the age of 11 years old, Tommy had co-written his first published song with Carlos Santana, titled "Zulu", which was included on Santana's "Moonflower" album in 1977. At 12 he received his first gold album from this collaboration and at 19 Tommy moved to Boston to study "Jazz Composition" at Berklee College of Music.
After co-writing and producing several jazz records with his father, Tommy moved to Los Angeles in 1992 to start a new chapter in his musical career. In 1998 Coster scored his first film for Miramax, and rapper Master P, titled "I Got The Hook Up". In 1999 Tommy started working with Dr Dre which resulted in him co-writing one of the biggest songs in the history of hip hop with Dr. Dre and Eminem, titled "The Real Slim Shady". Tommy went on to work with several other artists resulting in the sales of over 80 Million records. Tommy is a 2X Grammy Award Winning writer with several gold and multi platinum awards as well, including 2 RIAA Diamond Awards, certifying over 10 Million copies sold of the "The Marshall Mathers LP" and "Curtian Call" in the United States alone. Only 150 projects in the history of the music business have every reached this level of achievement. Tommy has also been an active film and TV composer with more than 500 credits on IMDB.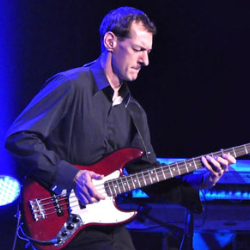 Chris Golden – Bass
Chris Golden was born in Cleveland Ohio and raised in Eugene Oregon. The youngest member of a musical family, he enjoyed listening to his older brothers, sisters and mother play the piano, guitar, sing and play drums from a very early age. He began music lessons on piano at age 7 and also took an interest in playing drums soon after. By age 10 Chris had decided to take lessons on upright bass and received classical training until age 15 when he switched to playing the electric bass. Through his teenage years, Chris played in rock, r&b, reggae and jazz groups around town (including a top 40 cover band with his two brothers) until arriving at the Berklee College of Music in Boston. Here he received a scholarship award and earned his bachelor of music degree in bass performance with additional advanced studies in jazz composition.
After attending college Chris spent several more years in Boston touring the Eastern United States and playing gigs around town as well as giving private instruction, until eventually moving to Los Angeles. It was here among the music scene in Hollywood that Chris' carreer as a professional musician really began to take off. Chris can be heard performing on both electric and upright bass on several platinum and gold albums with such artists as Carly Simon, Engelbert Humperdinck and Art Garfunkel, as well as on the title track of Rod Stewart's grammy-award-winning album "Stardust." He has also done numerous TV show appearances, tours and has co-written a song entitled "Gemini" (with Guitarist Brian Kahanek) which is featured on the video game guitar hero II.
Tim Bulkley – Drums
Tim is known for a musical, intuitive approach to drumming. He grew up taking piano lessons, taking art classes, singing in choirs & studying the drums. His professional career as a musician started early and has stayed a constant for over 25 years. He has played and recorded with artists including Dayna Stephens, Michelle Amador, Goh Nakamura, Evan Francis, Anton Schwartz, The Invisible Cities, John Lester, Postmodern Jukebox, Adam Platt, Stacey Kent, Boz Scaggs, Peter Bernstein, Telepathy, Wil Blades, Dandelion Dance Company and BodyVox Dance. Tim spent the years of 2006 – 2017 living and working in Brooklyn NY & 2000 – 2006 living and working in San Francisco CA. Both have informed and inspired how Tim plays music & makes art. Tim began making visual art in 2008 [ after a long hiatus since high school ] and has enjoyed exploring & growing there as well. He has sold works to several individuals since.

Special Guest: Gerry Pineda – Bass
Initially self-taught, Gerry began his formal double bass studies in high school while living in Cincinnati, Ohio. He studied with Barry Green and Richard Topper at University of Cincinnati College-Conservatory of Music. Upon graduating high school Gerry moved to Southern California to attend Loyola Marymount University, Los Angeles. After two years, Gerry transferred to California State University Sacramento where he received a BM in Jazz Studies and an MM in Double Bass Performance.
What is an "Advanced middle school" music student? Good question!
This student will know how to tune their instrument. They will be comfortable with a few octaves of their instrument's range in the case of wind instrument players. Chordal instrument players should be able to play basic chord voicings in a variety of transpositions. Good music reading skills are a plus. Great listening skills are a plus. If you have any questions or concerns or need further clarification, use the contact form on our site to get in touch and we'll get right back to you.